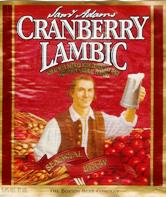 Round-about Christmas time I start to see the Samuel Adams Winter Classics Mix Pack on store shelves.  I love all but one of the 6 selections in the Mix Pack (especially the Old Fezziwig Ale – the Christmas cookie of beer).  The one that I don't care for is the Cranberry Lambic.
The Samuel Adams website descibes the Cranberry Lambic this way:
Samuel Adams® Cranberry Lambic is a fruit beer that draws its flavor not just from the cranberries it is brewed with, but also from the unique fermentation character imparted by the rare wild yeast strain. The result is a flavor rich in fruitiness and reminiscent of cranberries and bananas, cloves and nutmeg. The yeast fermentation also will create a slight sourness on the sides of the palate, a signature of the original Lambic style which, with the subtle cereal note from the wheat malt, remind its drinker that, as fruity a beer as this is, it is still a beer.
I found the brew to be just too juicy and sweet and as a result always end up with several bottles tucked into the back of the kitchen cabinet.  I tossed a couple this past September that were left over from the previous year's Yule celebrations, and let me tell you….. phew…. a super sweet fruit beer just doesn't keep.  I nearly gagged as I poured the thickened, chunky, and just plain spoiled beer down the drain.  And it broke my heart.  I hate waste, especially a wasted beer.
I was poking around in the kitchen last weekend for some tasty treats and found a couple of bottles of Cranberry Lambic from this past Christmas.  Determined not to let them go to waste I quickly came to the conclusion that the best thing to do with them would be to bake – Beer Bread.  A Google search yielded a recipe (I'm just not creative enough to make one up on my own).  The recipe is simple:
Cranberry Beer Bread
3 c flour
2 tsp baking powder
0.5 tsp salt
0.5 c sugar
3 tbsp vegetable oil
12 oz cranberry lambic
0.5 c dried cranberries

Preheat oven to 180ºC/350ºF and lightly grease a loaf pan.
In very large bowl, whisk together dry ingredients. Stir in cranberries. Make a well in the center and add vegetable oil and beer. Stir just until no streaks of flour remain. Pour batter into prepared pan.
Bake 55-60 minutes, until top springs back when lightly pressed. Turn out of the pan and allow to cool on wire rack.
I didn't have enough dried cranberries in the cupboard, so I went halfsies with the raisins.
The result: a nice sweet bread that was enjoyed with breakfast, and again with dinner.  The kids loved it too.  I have one more bottle of Cranberry Lambic in the cupboard, so I'll be making another loaf soon.  I plan to use the same recipe for similar breads this summer: I am thinking that apricot beers, Sam Adams Cherry Wheat (this is a Sam Adams fruit beer that I CAN get behind!), and even a chocolate raspberry stout could be used for some great baking experiments.